---
About Us
NECA is the voice of the electrical construction industry.
NECA has provided over a century of service and is the voice of the $130 billion industry responsible for bringing electrical power, lighting, and communications to buildings and communities across the United States. Approximately 120 Chapters operate nationwide to serve our Members wherever they may need us. The association advances the interests of electrical contractors through proactive labor relations, management education, the creation of industry performance standards, innovative industry research, political action, and promotional activities.
The Cascade Chapter, NECA serves Washington States IBEW Local 191 whose jurisdiction covers the counties of Snohomish, Skagit, San Juan, Island, Grant, Douglas, Chelan and Okanogan. WA State Jurisdiction Map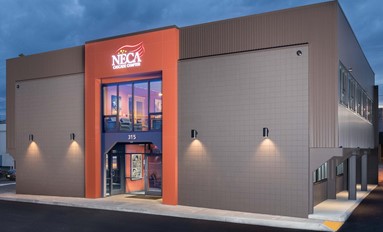 Our goal is to assist NECA member firms to become strong, professional and profitable businesses. NECA meets this commitment through numerous programs that help members take advantage of technological innovations, meet the challenges of a changing economy, secure fair representation in the legislative and regulatory processes, avail themselves of trained and highly skilled employees, and market and deliver the best possible services to customers.
NECA represents small and large contractors alike. While most NECA contractors qualify as small businesses, included among NECA's member firms are the country's largest electrical contracting companies. Member contractors' expertise range from high-voltage power transmission and distribution, to energy efficiency and power quality, to integrated building systems solutions for institutional, industrial, residential, and commercial facilities.
This means that NECA contractors are electrical construction professionals who:
Develop innovative solutions to meet existing and emerging customers' needs;

Lead the industry in the practical application of new technologies;

Set industry standards for traditional electrical and integrated building system installations; and

Are backed by the resources, research and support of NECA, the industry leader.
NECA promotes networking among members through annual summer and fall conventions, regular membership meetings, and occasional social functions. Members unearth a wealth of knowledge from a credible source - their peers. We hope that our website will prove to be a valuable resource for our Membership, and a source of information about the Electrical Contracting Industry for the general public.